FELE stands for Florida Educational Leadership Examinations– a set of tests given in Florida to evaluate your knowledge, competencies, and skills to become a school administrator.
As a school administrator, you'll be responsible for administrative tasks, managing facilities and staff in schools and other educational institutions such as colleges and training institutes.
The purpose of FELE exams is to evaluate how well you meet the standards set by the Florida State Board of Education. FELE checks if you have the necessary skills and abilities to help achieve the Florida state's education goals, and evaluates your mastery of the Florida Principal Leadership Standard.
Taking the FELE exams is crucial in building your school administration career. It validates your skills, demonstrates your commitment to excellence, and positions you as a leader dedicated to improving education in Florida.
In this article,
The Learning Liaisons
provides all the details about the FELE exams, how to register, prepare for the exams, and what you need to know on the FELE test day.
What Is the FELE Exam?
The Florida Educational Leadership Exam (FELE) is a test that assesses how well you meet the Florida Principal Leadership Standards (FPLS) – a requirement for all school administrators in Florida.

Florida Principal Leadership Standards form the foundation for personnel evaluations and professional development systems for school leaders.

It shapes school leadership preparation programs and serves as a requirement for educator certification.

Florida Principal Leadership standards have been carefully developed based on up-to-date research on various aspects of school leadership, such as school management, organizational leadership, and communication–ensuring they contain the essential skills and knowledge needed to thrive in leadership roles.

FELE exams are based on eight principle standards, grouped into categories of different leadership areas. Each Standard has a title and may include additional details to provide a clearer understanding–it helps develop leadership programs and assess proficiency to fulfill their intended purposes.

By taking the FELE exams, you prove that you understand these standards, which means you're ready to become a school administrator—positively impacting the education system and helping your students succeed.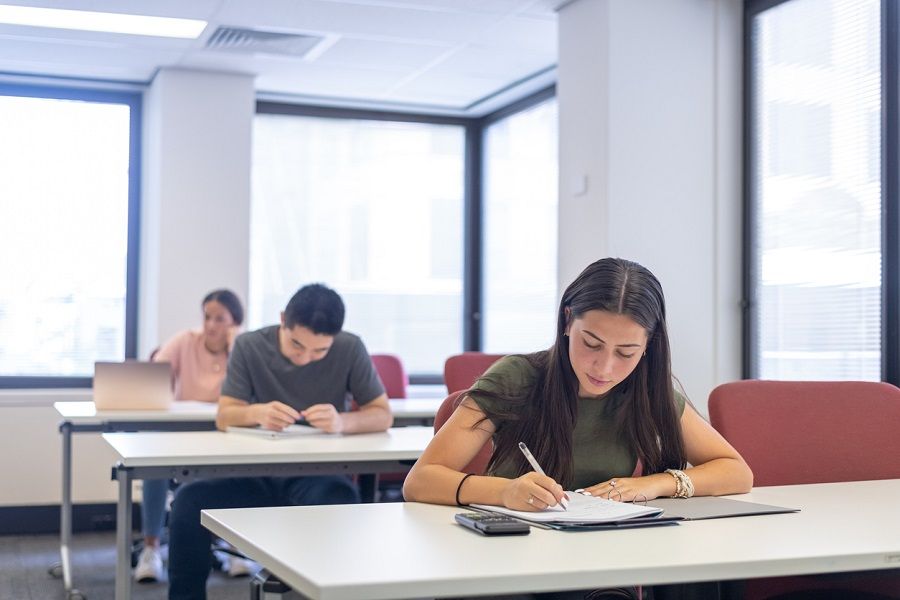 FELE Exam Subtests
The Florida Educational Leadership Exams
consist of three subtests that you must take and pass to complete the full FELE exam.
You'll have 6.5 hours to complete the exam, which includes answering 140 multiple-choice questions and writing an assessment in sub-set 3.
Written assessment consists of a written performance section– an essay examination that evaluates your capacity for producing a unique essay within the allocated time.
The essay tests your abilities to organize your thoughts, properly handle the topic, and use good punctuation and spelling. Copying an essay from another source and presenting it as your own is considered cheating.
Make sure to manage your time effectively so that you can address all the questions and provide a well-thought-out response to the essay.
Passing the three subtests below is crucial for your success in the FELE exam and obtaining Certification in Education Leadership.
Subtest 1: Leadership for student learning

The Leadership for student learning subtest is a two-hour computer-based test (CBT) with approximately 70 multiple-choice questions designed to assess your abilities to facilitate positive achievement results.
This sub-set examines your aptitude for creating and maintaining a supportive learning environment, ensuring the school environment promotes student engagement, motivation, and well-being.
Here are important areas related to effective leadership that the leadership for student learning subset:
Effective facilitation of positive achievement results: This area evaluates your strategies to promote student success and academic growth, how you utilize data to assess student progress and make informed decisions, and whether you can create a positive and inclusive learning environment.
Prioritization of student learning through leadership actions: This area focuses on your goals and expectations for student achievement, how you develop and implement instructional initiatives that support student learning, and how you can collaborate with stakeholders to improve educational outcomes.
Development and implementation of an instructional framework: This area focuses on your ability to design and align curriculum, instruction, and assessments to ensure coherence and effectiveness.
It includes supporting teachers in implementing research-based instructional practices and continuously evaluating and improving the quality of instruction.
Structuring and monitoring school environment: This area examines your ability to establish a supportive school climate that nurtures the holistic development of students.
It involves managing resources effectively to support student learning, monitoring and assessing school-wide progress and performance and fostering a culture of continuous improvement.
Subtest 2: Organizational development

Organizational Development (Subtest 2) is a two-hour computer-based test (CBT) consisting of approximately 70 multiple-choice questions. This subtest examines your proficiency in various areas related to organizational development in the context of school administration, including:
Effective recruitment and induction practices: This area evaluates your understanding and ability to implement effective recruitment and induction practices. This includes strategies for attracting and selecting qualified faculty and staff members who can contribute to a positive and inclusive school environment.
Practices for the development and retention of faculty and staff: This area focuses on your professional development abilities to enhance staff skills and knowledge, create a supportive and collaborative work environment, and implement strategies to address staff retention and job satisfaction.
Practices that cultivate and support leaders within an organization: This area covers your abilities to identify and develop potential leaders within the school community, creating opportunities for leadership growth advancement, and supporting and mentoring aspiring leaders to enhance their effectiveness.
Personal and professional behavior: This area evaluates your ethical behavior and professional conduct, building and maintaining positive relationships with staff, students, and stakeholders, and upholding legal and ethical standards in decision-making and interactions.
Subtest 3: Systems leadership
Systems leadership (subtest 3) is a comprehensive assessment that evaluates your proficiency in various areas related to leading and managing school systems. This subtest consists of a multiple-choice section with approximately 55 questions and a written performance assessment totaling two and a half hours.
The multiple-choice section within Subtest 3 covers several important areas related to systems leadership, including:
Effective decision-making processes: This area evaluates your ability to make informed decisions by analyzing data, considering multiple perspectives, and understanding the potential impact of your choices on the school community.
It tests your capacity to effectively apply decision-making strategies that promote positive outcomes and address challenges.
Organizational theory, research, and management practices: This area focuses on your understanding of different organizational structures, research-based practices for effective management, and strategies to foster collaboration and teamwork within the school environment.
It examines your knowledge of organizational theories and your ability to apply them in real-world scenarios.
Utilization of resources and fiscal management practices: This area assesses your knowledge and skills in resource allocation to support educational goals. It covers concepts such as budgeting, financial management principles, and strategies to maximize the utilization of resources efficiently and effectively.
School legal practices and applications: This area evaluates your understanding of laws and regulations governing education. It assesses your ability to apply legal principles to ensure compliance, fairness, and ethical decision-making.
Knowledge of the rights and responsibilities of all stakeholders is essential in this domain.
Communication practices: This area focuses on your ability to establish effective communication channels within the school community.
It assesses your skills in active listening, clear and concise communication, and building positive relationships through effective communication strategies. Effective communication fosters collaboration, resolves conflicts, and creates a positive school
FELE Scoring
To pass the FELE exam, you must meet specific requirements for each test section. In all three Subtests, a minimum passing scaled score of at least 200 is necessary for each multiple-choice section. For the written performance section in Subtest 3, you must obtain at least seven out of 12 points.
You must pass all three Subtests, including both sections in Subtest 3. Each section contributes to your overall performance and determines your certification.
To score at least seven points in the written assessment of the FELE test, focus on several key aspects of your response, such as accuracy and organization.
Here are some strategies to help you achieve a successful score:
Understand the prompt: Carefully read and understand the prompt or scenario in the written assessment. Identify the main question or issue being addressed and ensure your response addresses it directly.
Organize your response: Structure your response clearly and logically. Begin with an introduction that provides an overview of your main points. Use paragraphs to separate different ideas and maintain coherence throughout your response.
Support your ideas: Use relevant evidence, examples, or data to support your arguments or recommendations. Draw upon your knowledge of educational leadership concepts, theories, and best practices to substantiate your points.
Analyze and interpret data: If data is provided in the prompt, carefully analyze and interpret it. Use your analytical skills to draw meaningful insights and connect the data to your arguments or recommendations.
Demonstrate depth of analysis: Go beyond surface-level responses and demonstrate a deeper understanding of the issue or question. Provide thoughtful analysis and critical insights that showcase your ability to think critically and apply your knowledge effectively.
Use clear and concise language: Write concisely and coherently. Avoid complex language that may hinder understanding. Use proper grammar, spelling, and punctuation to ensure your response is well-presented.
Edit and revise: Take the time to review and revise your response before submitting it. Check for any errors, ensure that your ideas flow smoothly, and make necessary adjustments to enhance the overall quality of your writing.
Following these strategies and practicing your writing skills can increase your chances of passing the FELE assessment.
Any unused time on a section cannot be carried over to the other section. You cannot return to the previous one once you move on to a new section for a fair and consistent evaluation process.
If you do not pass a section of the exam on your first attempt, you can retake that section to improve your score. This applies to Subtest 3 as well, where you can retake a single section or a combination of sections based on your needs.
You must wait 31 days before retaking any test, subtest, or portion for which you obtained a "NOT PASS" result and at least three years before retaking a test, subtest, or portion for which you obtained a "PASS."
You are permitted to attempt a test, subtest, or component of a test as many times as necessary to meet the PASS scores.
If you are participating in a test that consists of multiple-choice questions, your unofficial pass/non-pass status will be provided to you upon completion of the test session.
FELE Registration
You can conveniently register for the FELE exam online any time of the year.

During each appointment, you are allowed to register for only one test. When taking the FELE for the first time, you can choose any combination of subtests.

In case you wish to register for subtest 3 (Systems Leadership), you'll need to sign up for both the multiple-choice and written performance sections in your initial attempt because it's mandatory.

There is no guarantee that numerous appointments can be arranged sequentially, even if you register for them on the same day at the same test location.

You cannot cancel or reschedule a test appointment within 24 hours of your scheduled test time. If you must select a different examination, you must cancel your existing test appointment for a refund. You will then need to re-register.

Here's a step-by-step guide to help you through the registration process:

Log in to your FELE account. If you're a first-time user, you must create an account to get started.

Click "Register for the FELE" to select the test you wish to take. Answer the background questions and agree to the testing policies.

Under "Open Registrations," click on "Schedule" to choose your preferred test site, date, and time. Take your time to find a convenient option that suits your schedule.

Review your registration details and proceed to submit your payment using a credit, debit, or check card. Make sure to click "Submit Order" to complete the process.

Check your email for the Confirmation of Pearson VUE Exam Appointment. This email will provide you with important information about your appointment.

You can also log in to your FELE account to review your appointment details.

During the registration process, you can send your score directly to your institution or Professional Development Certification Program. This step is highly encouraged as it helps evaluate the quality and effectiveness of your preparation program.

After scheduling your test appointment, you'll receive an appointment confirmation email. This email will contain your appointment time and the address of the test location. Make sure to review this information carefully and mark it on your calendar.

You'll have one year from the registration date to schedule your test appointment. If you don't schedule a test within this timeframe, you'll need to withdraw your registration and go through the registration process again to view available test dates.

Here's a breakdown of the exam cost to help you plan your budget effectively

First attempt registration cost: To register for the FELE exam on your first attempt, the cost is $215. This fee covers any combination of Subtests you choose to take.

Subsequent attempt registration cost for Subtest 3: If you need to retake a section of Subtest 3, the registration cost is $150.This allows you to focus on specific areas for improvement.

Subsequent attempt registration cost for any combination of Subtests: If you're retaking any combination of Subtests, the registration cost is $225. This option allows you to concentrate on the areas you want to improve.

The registration costs may vary depending on the number of attempts and the specific Subtests you are registering for. It's essential to factor in these costs when planning to take the FELE exam.
FELE Test Day
On the day of the FELE exam, it is recommended to arrive at the testing center 15-30 minutes before your scheduled appointment.

Upon arrival, you will be asked to sign in and present two valid forms of government-issued identification. The testing center may also take a photograph and a biometric scan of your palm vein for verification.

Before entering the testing room, you must store all personal belongings, including cell phones, electronic devices, hats, head coverings (except for religious or medical purposes), large hair accessories, watches, and removable jewelry larger than a quarter-inch wide in a locker outside the testing area, for a secure testing environment.

Once you sign in at the test site, you will be asked to read and accept a nondisclosure agreement on the computer. This agreement outlines the conditions and rules for the test. Make sure to read and accept the terms within 5 minutes. If you don't respond or indicate that you do not accept the agreement, your test session will be terminated, and you won't be allowed to test.

During the exam, you will receive a scientific calculator, an erasable notepad, a pen, and instructions from the representative on how to proceed. You can take restroom breaks, but remember that the testing time will continue during unscheduled breaks.

Scheduled breaks are provided for specific combinations of subtests, as outlined in the break policy.

Remember to maintain a quiet and focused testing environment. You cannot communicate with other examinees or unauthorized persons. Your testing session will be continuously monitored, including possible video recording.

If you need assistance during the test, raise your hand and notify the test site staff.

However, they cannot answer questions about the test content.

Where technical issues may arise, such as a frozen computer–testing time will not be lost, and you will resume where you left off once the issue is resolved.

Once you're done with the test, your test materials will be collected, and you'll be dismissed from the test session. Please leave the test site promptly after dismissal. If you have another test appointment later in the day, return to the test site 30 minutes before your next appointment.


Preparing for Your FELE Test?
The FELE test is a comprehensive assessment required for certification in Educational Leadership in Florida.
By completing this exam, you demonstrate your readiness to lead schools effectively and meet the high standards set by the Florida Principal Leadership Standards.
The FELE test provides a valuable opportunity to showcase your knowledge, skills, and leadership abilities. It's a way to impress potential employers and educational institutions, as it serves as tangible evidence of your capabilities as a school administrator.
It opens doors for career growth and advancement in educational leadership.
The Learning Liaisons can help you
prepare for your FELE test
. Our guidance deepens your understanding of educational leadership practices and strategies.
Sign up with us now and enhance your knowledge of student learning, organizational development, and systems leadership with our thorough study and preparation process. We empower you to excel in your FELE test.
Why are we BETTER than any other teacher certification test prep?